Do you know the trick to flood your inbox with a job offer? Yes, you heard it right. There are tricks for receiving job offers from your desired designation and company. All you need to do is – think a bit out of the box for the job you want.
This approach does not work for everyone. But sometimes, sending resumes randomly to every company isn't going to work. You need to have a speculative cover letter that makes you win the job.
It's time to reveal the trick, that is – speculative cover letter! Wait, do not worry and panic about what is it and how to create it. This article by CustomCv.co.uk will guide you each and everything about it.
Take the tips from our expert cover letter writers to know the basics of creating a speculative cover letter to its technicities. It will include the entire fundamentals, its meaning, purpose, and how to write a good speculative letter step by step to impress your employer.
The magic of speculative cover letters works so extensively that it helps you in grabbing jobs that are not even publicly announced or disclosed. It is an incredibly useful cover letter that you can write in just five minutes after thoroughly reading this article.
A speculative cover letter is sent along with a CV, written with a particular designation in mind. They are more tailor to your desired company you want to work for by selling your skills, experience, and potential.
A speculative application basically means that you are getting in touch with your desired firm where you want to do a job by asking them that whether they have a suitable vacancy for you or not.
Tips to Write An Impressive Speculative Cover Letter
Without a further delay, we are throwing a top six tips to write an impressive speculative cover letter:
Use the perfect speculative cover letter format:
It is highly suggested to use the appropriate standard cover letter format while writing a speculative cover letter, for example:
The line spacing should be single or 1.15 and out the uniform space among all the paragraphs.
Fix the full page at one- inch margin.
The font size should be 12 to be readable enough.
The cover letter's content should be concise and engaging that should not exceed more than one page.
Create a professional header:
All relevant information should be included like name, contact number, residential address, and email address. It should be right-aligned, including the date with the format dd/mm/yy.
After that, write all the relevant information of the addressee's with that person's name in the left alignment.
Start with a personal greeting and compelling introduction:
Since in a speculative cover letter you are telling your favorite firm that you are interested in serving them so it should be appealing to your employer by grasping their attention and make your reader hungrier to read, for example:  
It should start with dear along with the hiring manager name.
Declare the designation or the job role you may be interested in.
Show your passion and compassion for the industry you are targeting. It should have the potential to flatter your employer so they may shortlist you as a dedicated employee.
Highlight your impressive professional achievement that served as a hook to your reader, such as increasing the sales revenue, making a saving and beating a company target.
Do not try or not even think to copy-paste the letter as it looks vague and fails to compels your reader and your employer to directly dispose of your cover letter to the spam folder.
Show you are a potential candidate:
The best way to show that you are dedicated and the best fit for their organization, so you need to do in-depth research or dip deeper. Suppose you have this information about the company. Find out the organization name, mission, and vision, staff, and swots of the company. In that case, it definitely illustrates you as a dedicated employee that will be the best fit for the company.
Say thank you and include a call to action:
In the ending paragraph, your speculative cover letter must include thank you in a very good manner because the employer is kind enough to take out their precious time to read it. You should also incorporate more powerful effects by including a call to action so that the employer or the hiring manager can pick up the phone to speak to you.
Finish the cover letter with the professional sign-off:
You are almost at the end step of the speculative cover letter, so do not ruin your all efforts by ending in a wrong manner, for example:
You should sign off with your full name.
The utilization of "your sincerely" is necessary when you know the name of the person. You should use "you're faithful" if you don't know the person and his name.
You must incorporate the digital copy of your signature at the end of your letter.
If cover letter is sent as the body of an email, put your contact details below your signature.
Speculative Cover Letter Sample Template: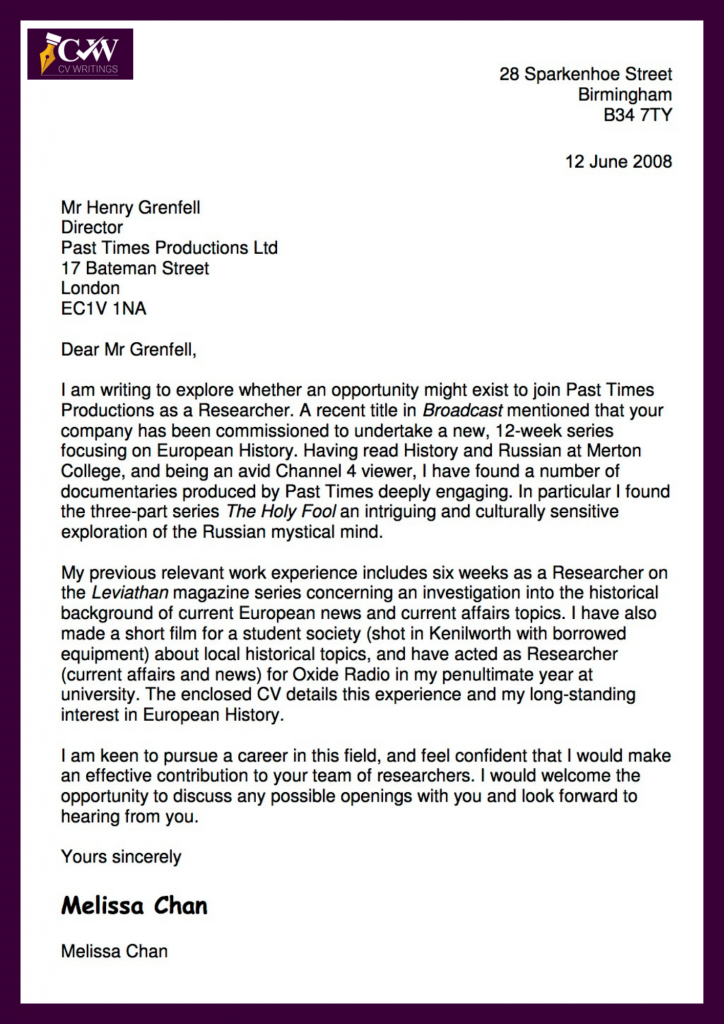 Here is an example of a speculative cover letter annotated as a sample. This tells how to write an impressive cover letter through which the hiring manager considers you as the best fit for the vacancy.
You have write your appropriate address on the top of the letter using right alignment.
Put the complete address of the organization using left alignment just below your address.
Use the right name of the person, if you don't know the person's name so use hiring manager or the recruiter.
Start with personal greeting and compelling introduction that act as Hooke to the hiring manger.
These are the body paragraphs. In body paragraph you have to get to the point directly. This tells how you can benefit to the company through your skills, experience and interest that makes you best fit for the company.
This is the ending paragraph. Ending of your letter must tell that you are eagerly waiting for their opportunity or call back.
Sign off with your sincerely or (your faithfully in case you don't know the person name) accompanied with your signature.
Summary: How to Write a Speculative Cover Letter with Example
Concisely, the speculative cover letter has the potential to widen your job-seeking horizons and let you access the job, which isn't being advertised publicly. But you can get it if you follow the details mentioned earlier and the tips.
Now we sum up the tips mentioned above that utilization of the standard format and rules is necessary. The introduction should be compelling, and the ending should be in a very kind way. It is compulsory to show that you are well-versed with the organization's research and do not be vague in your writing. You should sign off properly and formally by incorporating the call to action effect and thank you in a very formal way.
Here at CV Writings, we want you to avail amazing job opportunities. So, whenever you require a job from your desired firm. Remember these key points or get help from our professionals to write every Cover Letter for as little as £20.